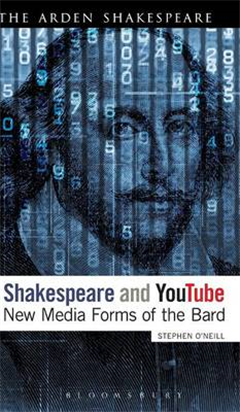 In the first ever full-length analysis of YouTube Shakespeare, Stephen O'Neill shows the importance of the video-sharing platform to the twenty-first century's reception and adaptation of Shakespeare's work.
By exploring YouTube's function as patron, archive and distribution channel, the book analyses how the platform extends and challenges Shakespeare's cultural currency. Investigating the intersection of YouTube's participatory culture – its invitation to 'Broadcast Yourself' – with its corporate logic, the book argues that YouTube Shakespeare is a site of productive tension between new forms of creative interpretation and the homogenizing effects of mass culture.
Emphasising the need for critical media literacy, O'Neill also analyses the site's usefulness as a pedagogical resource within Shakespeare studies. The book provides practical guidelines on using YouTube in the classroom, including detailed assignments designed to facilitate interactive, student-centred learning. Including a wealth of online resources, Shakespeare and YouTube will prove essential to an understanding of how Shakespeare is being appropriated and adapted in the digital age.
Stephen O'Neill is a Lecturer in the School of English, Media and Theatre Studies, National University of Ireland Maynooth, with teaching and research interests in Shakespearean and English Renaissance drama and also Shakespeare adaptation, especially in popular culture and new media. His publications include Staging Ireland: Representations in Shakespeare and Renaissance Drama (2007); Shakespeare and the Irish Writer (2010), co-edited with Janet Clare; and essays on the reception of Shakespearean drama.
Preview available here